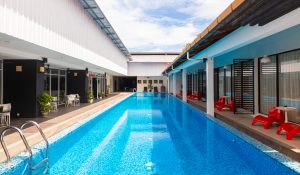 Located at the cross currents of the Straits of Malacca and the Andaman Sea lies the mystical isles of Naturally Langkawi – all 99 of them like jewel settings in a crown.
Owning still lush dense tropical rainforests, stretches of sandy beaches & bays, excellent modern infrastructures for both land & sea and well-managed tourist attractions; it is no wonder that Naturally Langkawi is one of the foremost tourist destinations in the world, to date.
Inaugurated Geopark status by UNESCO in June 2007 for having rock formations of 550 million years old, this grand dame has outshone herself offering visitors nature & adventure, sailing & yachting, water sports & big game fishing, animal rides & aquaria, historical & cultural monuments, accommodations to suit all budgets but best of all her charming, friendly islanders. Here on this island located in Pantai Tengah is yet another gem…The Villa Langkawi.
Creative touches such as vertical trellises on red walls, ethnic artifacts provide the modern contemporary feel of the place whilst well thought of facilities pamper to both the body and soul.
Welcome…..be our guest!